Kidsafe Tasmania
Kidsafe Injury Prevention Survey

Click here to complete the survey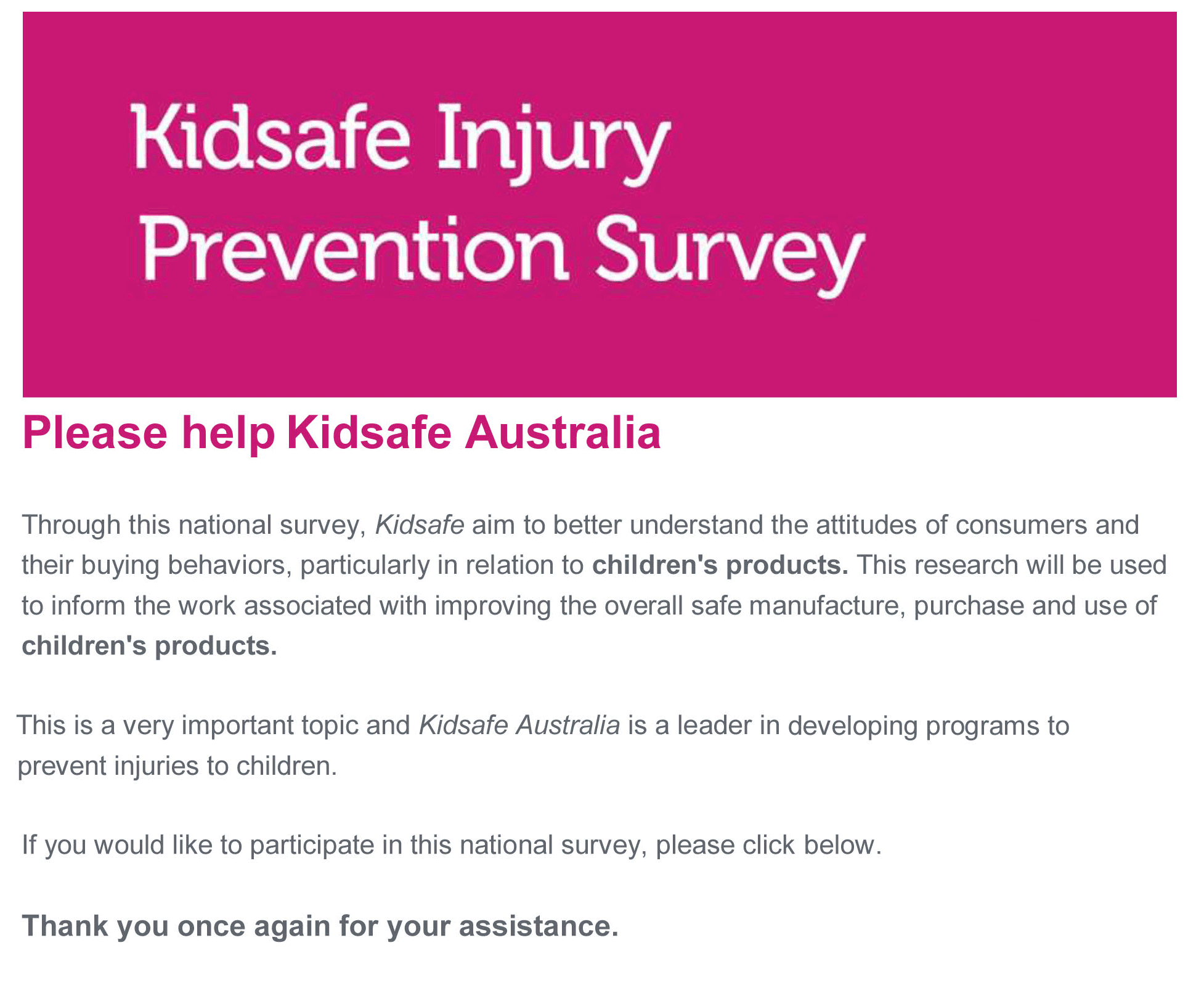 Click here to complete the survey
2018 Kidsafe National Playspace Design Awards.
Entries close AEST 5pm, Friday 24 August 2018

ENTRIES NOW OPEN!
The 2018 Kidsafe National Playspace Design Awards (the Awards) recognise excellence and innovation in the provision of safe, creative playspaces. The Awards are open to playground owners, service providers, design professionals, students, and landscapers from across Australia. A great opportunity to showcase playspace design in action! The Awards aim to promote inspirational, innovative, best practice play facilities that encourage healthy participation in recreational activities for all children. Judging Criteria Entries will be reviewed by a multi-disciplinary panel, which may include representatives of Kidsafe, education and care services, education, engineering, injury prevention, design and local government. Judging will assess entries on the basis of:
· Project Summary
· Commitment to Safe Play Environments
· Innovative Design
· Inclusive Playspace Design
· Community and Culture
· Shade Elements
· Sustainability
· Successful Outcomes of the Project
Entrants must ensure that the playspace is:
· Within Australia;
· Completed;
· Installed/constructed since September 2016; and
· Currently open for use.
Award Categories
Education and Care Services: preschools, long day care, out of school hours care, vacation care, family day care
Schools: public and private schools, primary and high schools
Public Playspaces:
· Up to $500K
· $500K—$1M
· $1M upwards
State and Territory commendation awards may also be considered.
Entries close AEST 5pm, Friday 24 August 2018 Winners announced 29 November 2018
Click here to download Entry Form.
Kidsafe Tasmania

Kidsafe Tasmania is dedicated to the safety of Tasmanian children. Our goals are to contribute towards child safety through the prevention of unintentional childhood injuries and reducing the severity of unintentional injuries to children under the age of 14 years.
We are part of a network of Kidsafe organisations throughout Australia - an amazing resource of great ideas, experience and shared knowledge that has contributed towards many of the resources available to you through this website and our Kidsafe Tasmania office.

Our aim of a safer world for kids is achieved through community education, research, advocacy and environmental and legislative change.
We are always available to assist.
Kidsafe Tasmania
CEO Mobile: 0417 381 721
Office located at Berriedale Community Centre, Berriedale Tasmania
PO Box 19
Claremont 7011
In October each year, National Kidsafe Day promotes awareness of child safety!!

Some child safety facts - why Kidsafe is working hard for children
More Australian children aged 1 - 14 years die as a result of injury than from cancer, asthma and infectious diseases combined. In 2005, 35% of all deaths in this age group were due to injury.
Every day, 5000 children require medical attention and around 180 children are admitted to hospitals in Australia as a result of injury. Some of these children will suffer permanent scarring or disability as a result of their injury. Tragically, around four children per week will die as a result of injury.
Since Kidsafe's establishment in 1979 the number of Australian children killed by unintentional injury has been halved.
This website is designed to provide valuable information about baby safety and child safety. Please feel free to contact us if you have any questions.